HELLO THERE!
WILD WINTER SALE STARTS NOVEMBER 13th at 7.30am!
You are welcome to my world; a place where imagination has no bounds!
My mission is to fill your home with joy by bringing colour to your walls and helping you to connect with nature. I'd also like to help you connect with the inner child - the one that is not afraid to express themselves in a free and open manner.
I have a selection of creatures if you are drawn to animals and humour or my collection of abstract tulips is bursting with colour and joy. I'm adding to me newest colleciton of marine-themed paintings every day so come back and visit. I hope you find something you love.
Best wishes,
KiKi x
SHOP SALE!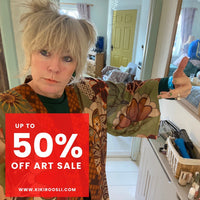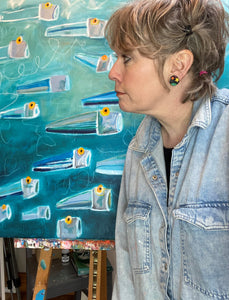 Interview with TG4's Arts & Culture Programme, 'Imeall'
Míle buíochas! I am very proud and happy to be featured in this amazing arts and culture programme on TG4. 'Imeall' is a programme I have always enjoyed. This March, 21st you will see me talking about my art, my lifestyle and the people and places that have inspired me to paint like a child would....I try to inject as much innocence to my work as I can, in an attempt to escape the harsh realities of modern living. Thanks to Red Shoe Productions for being so supportive.
SHOP MARINE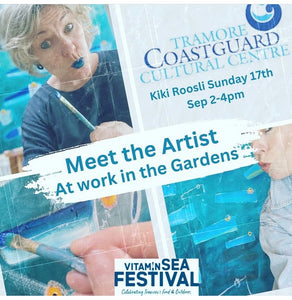 VITAMIN SEA FESTIVAL
Tramore will play host to the Vitamin Sea Festival this September, 15th to 17th. If you love good food and the outdoors this is right up your street. A celebration of the seaside and local talents of all genres. Lots of family friendly FREE EVENTS, including the one I'm participating in. I will be LIVE PAINTING in the stunning cliff top garden at the Coastguard Cultural Centre. I plan to do a marine-themed painting and I'd love you to come along and literally put your mark on it! A collaborative piece for all to join in on. Thanks for your continued support. I look forward to seeing you there Sunday, anytime between 2-4pm.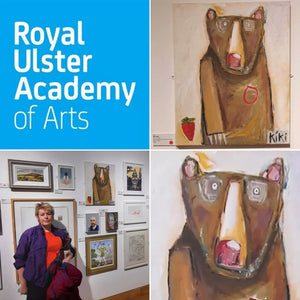 ROYAL ULSTER ACADEMY OF ARTS
I was selected by the Royal Ulster Academy of Arts to show my painting, 'Bare Feelings', at their 140th exhibition in November. It was such a privilege to be part of a line up like this. The painting depicts a mixed media bear who is coming to terms with their feelings as a single parent living in pandemic times, trying to be strong for their children and experiencing the loneliness that comes with going solo on this journey. Bear is not afraid to express themselves and they are proud to wear their heart on their sleeve as an emblem of strength, boldly branded on their chest.
CLIENT TESTIMONIALS
I feel all kinds of happiness looking at my new painting! To say that I am over the moon is an understatement!

Yvonne, Waterford
I made sure to hang my painting where I would see it most often, for it to work its magic. I come down every morning and it's the first thing I see. It instantly brings me joy.

Louisa, Waterford
Just found kikiroosliart on Insta. She painted this pic for me of my fab boxer, Dinky, who we sadly lost during Lockdown. It always makes me smile.

Dr. Pixie Mc Kenna, London
Love it so much, it's hanging pride of place in our sitting room.

Barbara, Dublin
Thank you so much. Our home will be forever brighter because of you.

Aoife, Waterford
Your cow has added sunshine to these bleak days. I smile everytime I see her.

Anne, Waterford